Sun kissed bodies resting on the shorts of the Mediterranean waters, understanding the beauty behind the lens of Maria a the content creator of the Greek summer collection, is understanding the beauty of the Aegean Sea, the memories of summers in Greece.

This content creator understands and appreciates the beauty and the richness of the Mediterranean Sea, history and natural landscapes.

"Rays of Sunshine is Culture and Heritage."
Amira Hassan: Tell our readers your creative background.
Marianna Tsourapa: Although I was usually inclined towards more technical disciplines, photography has always been a passion of mine. Whether admiring others' photos or being behind the camera myself, I've enjoyed it since a very young age. I credit my mom for fostering this interest, as she attempted to capture nearly every moment of our childhood.
2. How did you come across your creative side?
Probably during the first lockdown, like so many others. I needed a creative outlet during the day – I was reading a lot, learning how to paint, attempting to write, and doing pottery. That's when I decided to start sharing my photos from my summers in Greece – as a mental escape during those grey days at home. Photography was the easiest way for me to channel and share my creativity with others.
3. Why have you chosen this aesthetic theme for your instagram page?
I love summer, the Aegean Sea, and the memory of all my summers spent in Greece. I also really enjoy discovering new places – to eat, swim, explore – and sharing them with others. The Greek Summer Collection is a combination of all these loves.
4. What is the message you want to spread in the creative world?
Mainly a message of appreciation for the beauty and diversity of our world. Greece is a country rich in history, culture, and natural landscapes, and I aim to capture and showcase its unique character and charm through my photography. I hope that my work inspires others to explore and appreciate the beauty of the world around them and to embrace the diversity of cultures and experiences that our planet has to offer.
5. Can you share your creative process in making your captions and photo catalog?
I like to go through my albums and look at my old photos, again and again. I have so many photos from my travels and going back to them during a winter day brings me a lot of inspiration. The ones that give me the strongest feeling, I usually share on my channel. Same goes with the captions, they usually capture what I think and feel in the moment, looking at this photo.
6. Your captions are always inspirational. How do you create your rays of sunshine?
I love to read travel accounts of great authors and artists that visited Greece in the past. If I use a quote, it will usually come from one of those books – a quote about the feeling of the country, its sceneries and timeless beauty.
7. When do you feel most inspired?
When I am travelling, swimming, reading under the sun, visiting a new place, or going back to the same island for the 20th time. Without a doubt I feel the most inspired during the summer months.
8. Share a quote from your favorite Writer that resonates with you.
"One's destination is never a place, but a new way of seeing things." by Henry Miller. He is one of my favorite authors and I have felt this quote deeply. Some places have changed the way I see my future, what success looks like and what I want to be doing with my life.
9. What value would you like to add to this world through your page?
I hope to add a ray of sunshine to someone's day, an inspiration for a trip in Greece to look forward to or the urge to get behind the camera and capture their own unique moments.
10. What instagram content creator you admire the most ?
There are so many pages and creators that I love… @lavieestgrecque, @samyoukilis and @soulsandsalts – all travel pages capturing and sharing places and moments with their own unique perspective.
11. What would you love to achieve in your dream plans?
I would love to have my own series of photography books and travel full time to create them.
12. Do you think there is uniqueness you can bring to this world through your rays of sunshine on your page, that differs from other pages?
This page feels like my own brand – my chance to bring my perspective to the world the way it is. I feel the freedom to put out the content that I love and to connect with the people that will love it as well. In that way there is no pressure to change or adapt to anything else than my own vision.
13. Share with us the most beautiful testimonial you've got from your audience that touched your heart deeply and added valuable insight?
Honestly, every message that I get from someone telling me that they love a photo or video or booked a trip to a place I shared – it is a huge compliment, and I am so touched to hear it. And I treasure this opportunity to share a bit more about my channel and myself with you, so thank you deeply for that!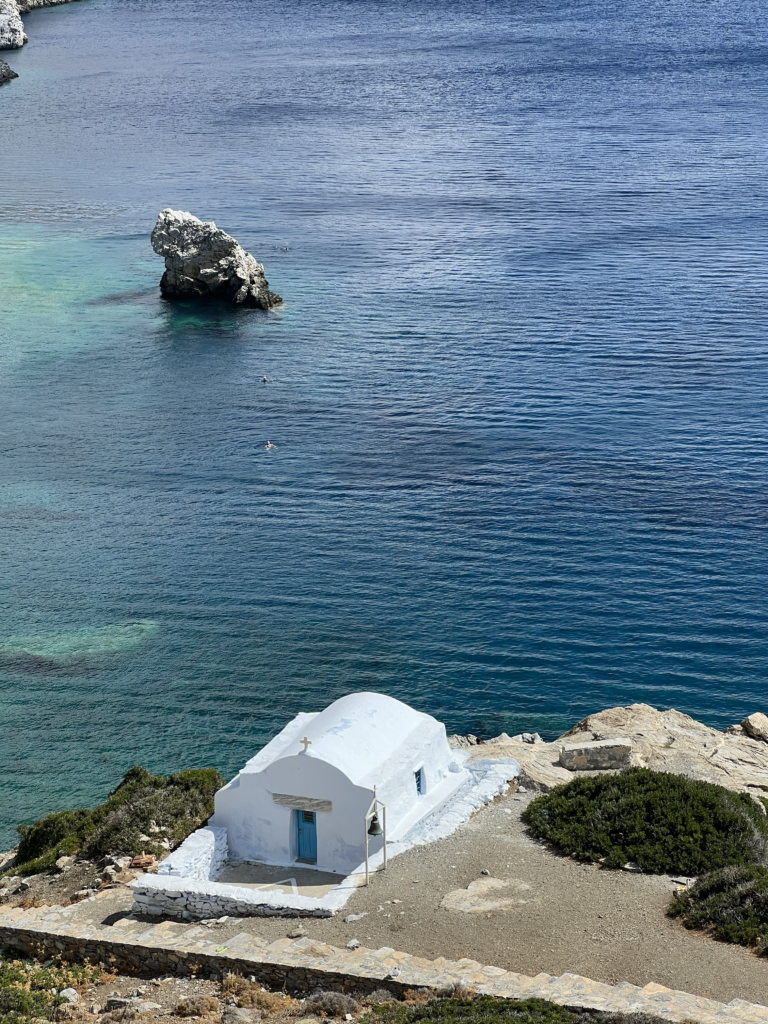 One of my favorite shots and scenes as this would be the definition of Greek summer for me – a white-washed church on a cliff and the endless blue of the Aegean Sea.
..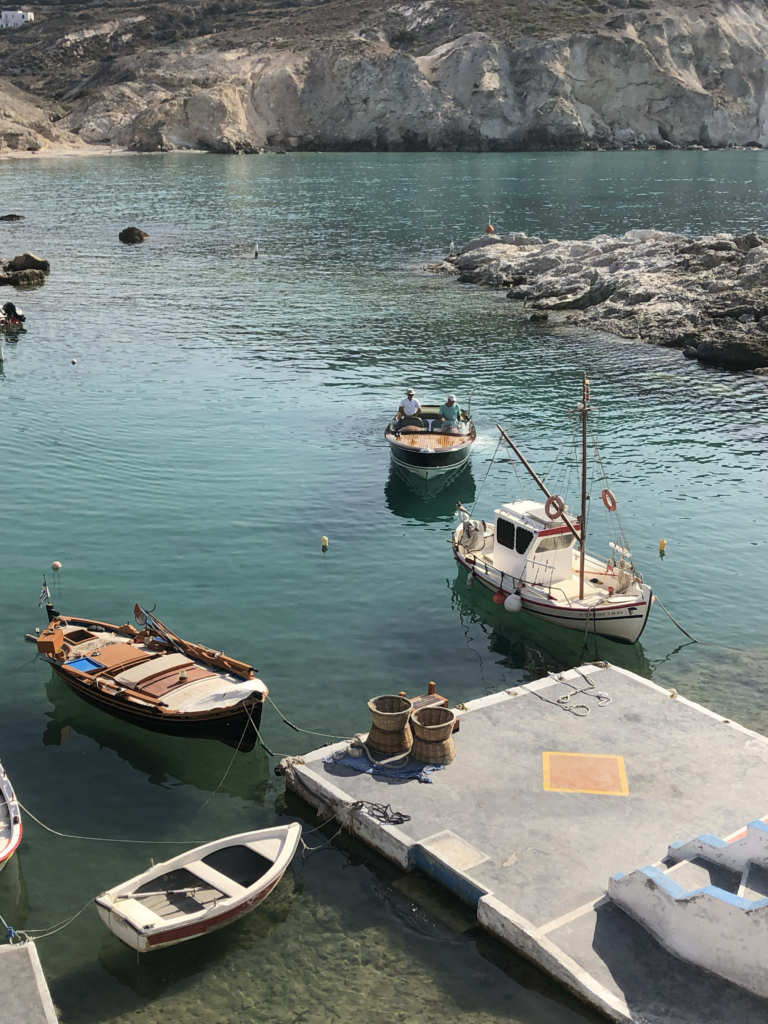 I love discovering and sharing new places, Mandrakia village is one of them. It is not a secret spot anymore but there is a reason why – every corner is so beautiful, the boats, the fishermen houses, the touches of colour and the cats laying everywhere, enjoying a bit of sunshine.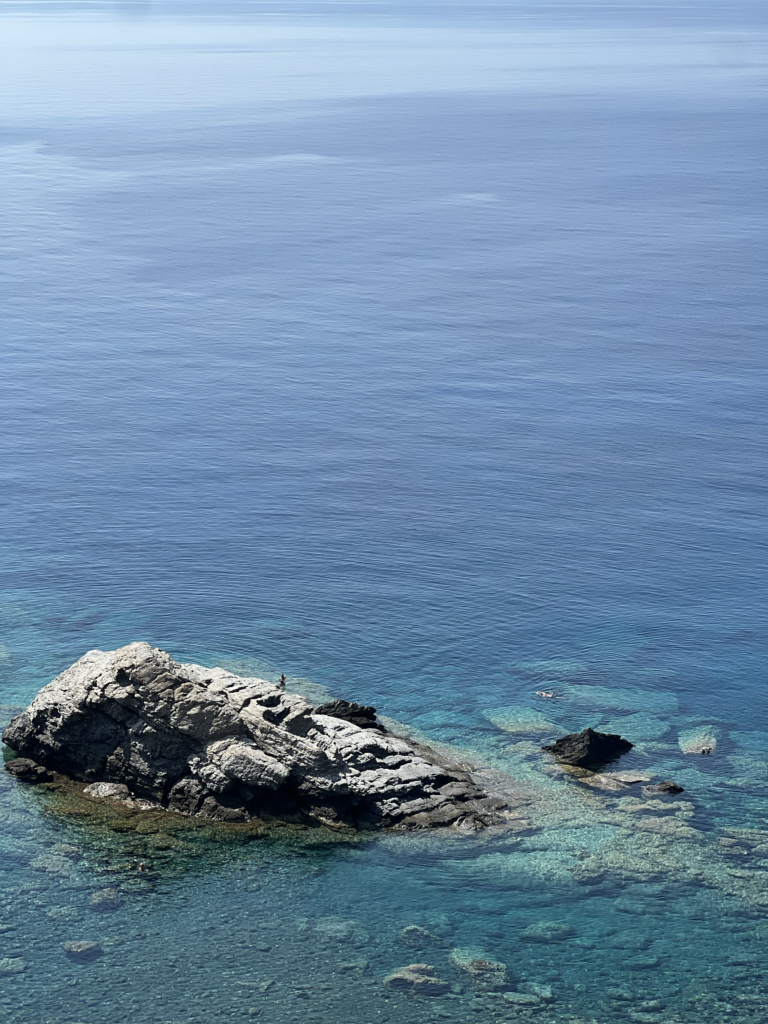 I visited Amorgos for the first time this year and I fell in love. This photo was taken at Ammoudi beach, a place I discovered on my last day on the island. Crystal clear waters, quiet beach and those huge rock formations that you could lay on, surrounded by the Aegean – it felt like a dream!
This is one of the most liked videos on my account, I think because it captures the feeling of being a child, enjoying carefree days by the water, creating core memories with your friends – at least that is how I feel looking at it .
Follow her on Social Media
Maria-Ioanna Tsourapas – Thegreeksummercollection
Editor Amira Hassan introduce a new interview series on the uncoiled magazine website about a collection of instagram pages that have added an immense cultural value to our daily lives, they have added rays of sunshine in our intellectual mind with daily posts about inspiring poets, artists, photographers and writers. They enriched our world with quotes from heartfelt classic movies, from Breathless in French new wave films, to Studio Ghibli beautiful and colorful movies. We would like to give the spotlight to these personalities whose work is most valuable in the social media world, and their creative endeavors deserve recognition and appraisal.