"I'm not a muse, I'm an artist"

Leonor Fini
born 30th of August 1907 in Buenos Aires, Argentina
died 18th of January 1996 in Paris, France
When Leonor was a baby her parents separated and her mother took her back to her home, Trieste (Italy), where she raised Leonor on her own. The separation of her parents was not easy though. Her father fought long for custody and even tried to kidnap Leonor once.
From a young age on Leonor had a fascination with drawing, as it was for her a way to understand the world around her. She never received any formal artistic training though and is entirely self-taught. She acquired her art knowledge from drawing, books, and visits to the museum. She also loved to go to the local morgue to sketch the cadavers, which was her own way of studying anatomy. 
She had her first exhibitions at the age of seventeen and was in contact with the artistic and literary circles of the city frequently.
"Marriage never appealed to me, I have never lived with one person. Since I was 18, I've always preferred to live in a sort of community – A big house with my atelier and cats and friends, one with a man who was rather a lover and another who was rather a friend. And it has always worked."
In 1931 she briefly moved to Paris where she met Max Ernst who introduced her to the Surrealist group (Man Ray, Salvador Dali, ….) residing in Paris and who became her lover for a period of time.  She quickly got integrated into the art scene and the social circles of Paris and became known for her eccentricity, theatrical way of dressing, and striking personality. 1936 Leonor fully moved to Paris and in 1937 met Leonora Carrington with who she formed a deep connection, as they were like-minded in many ways. Although Leonor's artwork was often exhibited with the Surrealists, she never became a member of the group, as she didn't make much of it, and preferred to stay an independent artist. 
"The real excitement for me was preparing my costume. I used to arrive late, about midnight, lightheaded with joy at being a royal owl, a large grey lion, the queen of the underworld."
She spent the years of the war in Rome and Monte Carlo where she continued to make and improve her portrait paintings and 'surrealist' works (she didn't call them surrealist or herself one, her works though have a very similar style to it).
In 1946 she moved back to Paris where she stayed for the rest of her life.  She also not only immersed herself into painting but also into costume, stage, and poster design for various operas and theaters. Which was right up her ally since she had a rather performative and exuberant lifestyle and loved extravagant clothes and masks.  Leonor continued painting until she died in 1996 at the age of 89. 
Leonor Fini- Artwork
"Paintings, like dreams, have a life of their own and I have always painted very much the way I dream."
Leonor's paintings are very mythical and she plays a lot with symbols and fantasy.  The paintings also often have a strong woman (or more) as the main protagonist, which also stroke me a lot. Because they are just so powerful and determined to achieve whatever they set their mind to.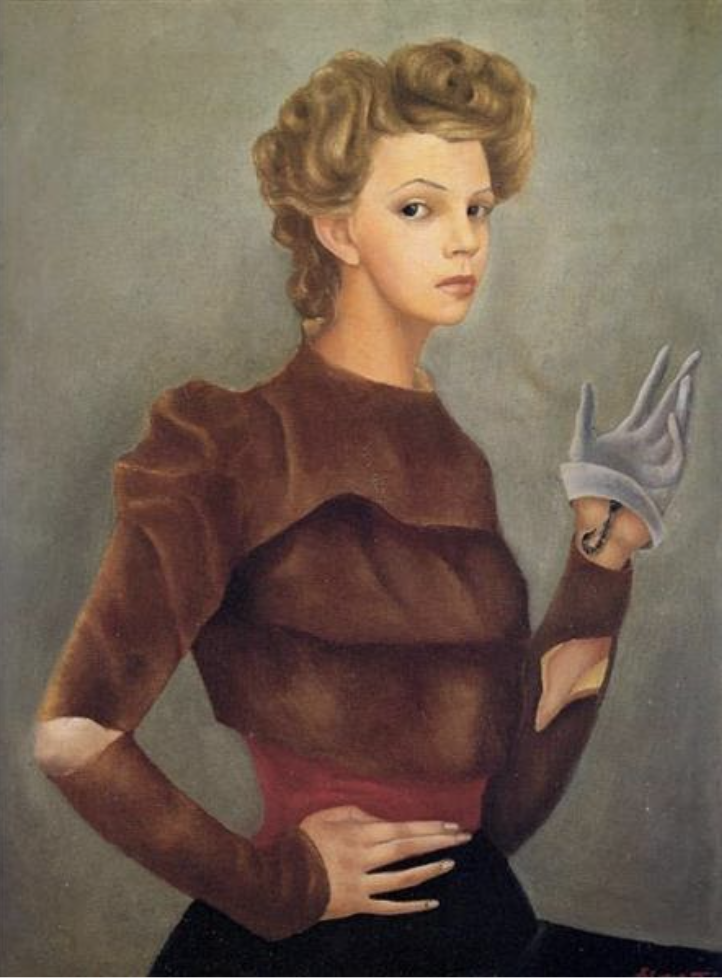 She also often played with the gender roles and switched what was "typically female" and "typically male", as seen for example in the painting "Woman seated on a naked man". Women are often perceived and shown as the softer gender and the ones who are in need of protection and guidance. Here she reversed that, as the man is the one being protected and taken care of by the woman. The man is now the muse of the woman, the passive protagonist.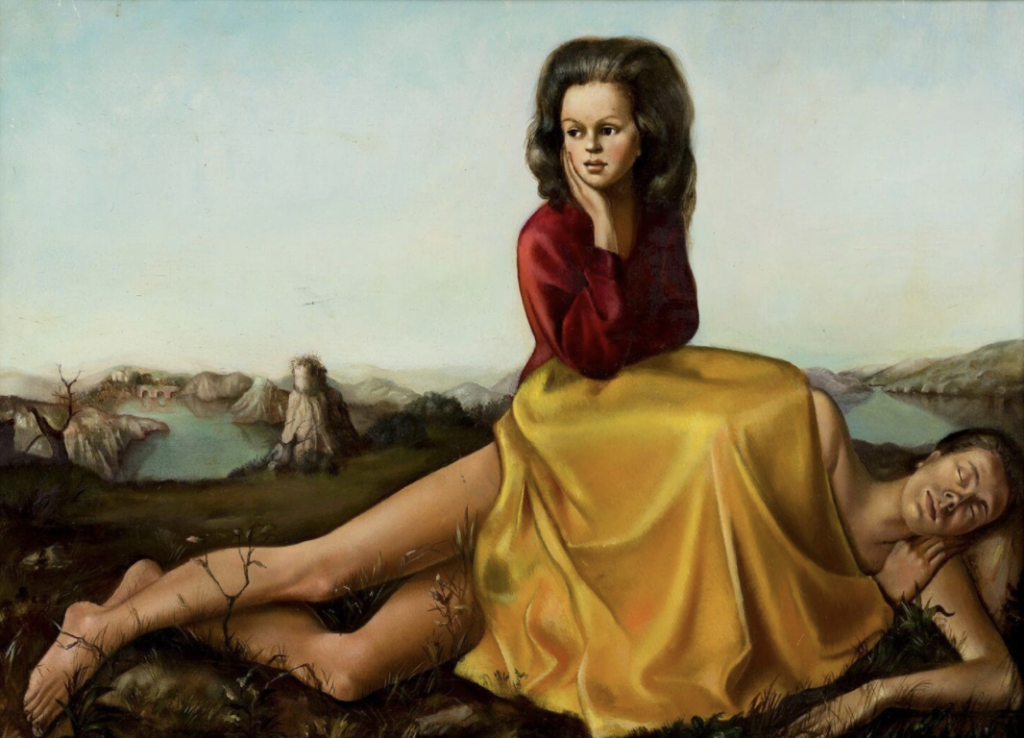 Her paintings, as one of the first in surrealism, are made from a woman's point of view. It shows her life and her experiences.
It also for the first time shows the pleasure of women, their desires. A lot of her paintings are interwoven with erotic fantasies. This was something new since, that a woman's pleasure even exists was denied, likewise her desires. Her only pleasure was seen in pleasing those of men. To fulfill their fantasies fully, to be blank, and to voice none of her own.
So this, in a sense, is a freeing of all these believes and conventions, making her voice heard and fully living (and showing) her life true to herself.
More so because a lot of the women she paints are similar to her.
Another recurring motif in her paintings and drawings is the Sphinx (which a lot of women in the surrealist movement did), as a form of self-portrait. The Sphinx is strong, mystical, powerful, and holds a lot of power (over cities, men, life and death, etc.). She is a strong symbol for sexuality but also for mind and body.
So Leonor identifies with her essence in a way.
Leonor for me is such a powerful woman. She is living her life true to herself no matter what others might think of her, no matter what society's expectations are, no matter whatever might come her way.
She is raising the voices of women (in art and in general) and showing life and experiences from their point of view.
She is unapologetically herself, pursues what she wants, and creates her life after her vision.
She empowers me.
To never lose focus of why I'm doing what I'm doing, of my vision. To be 'me' fully no matter what others or society might think or expect. And to follow my dreams and create a life I am happy to live. 
"I always imagined I would have a life very different from the one that was imagined for me, but I understood from a very early time that I would have to revolt in order to make that life. Now I am convinced that in any creativity there exists this element of revolt."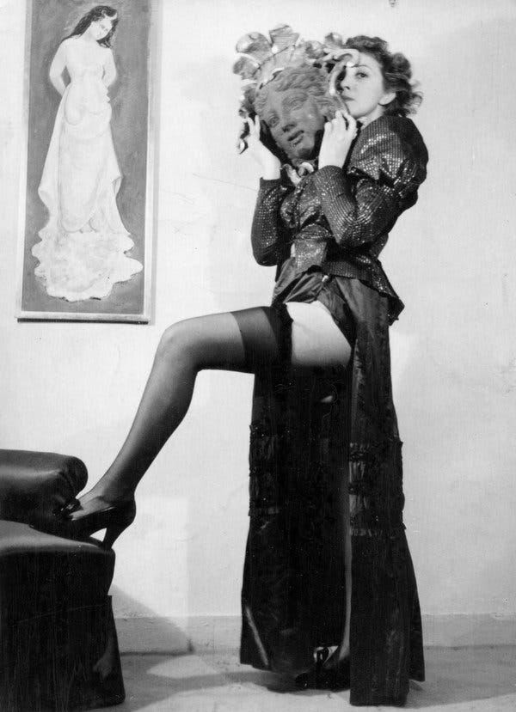 Art Uncovered also has an exclusive membership, where we dive even deeper into art and the lives of artists. The Patreon membership starts at only $5/month. If you're keen and curious where art is concerned then join the community on Patreon and celebrate art with us. Click here to join.
More of Leonora Fini: Documentaries, Interview, etc.
Leonora Finni as a fashion icon. Click here to see some of her most bold looks.