|
"I didn't have time to be anyone's muse… I was too busy rebelling against my family and learning to be an artist."

Leonora Carrington.
I didn't have time to be anyone's muse… I was too busy rebelling against my family and learning to be an artist." – Leonora . C
born 6th of April 1917 in Clayton Green / England
died 25th of May 2011 in Mexico City
Leonora studied briefly at Mrs. Penrose's Academy of Art in Florence before she, after a few detours, started studying at the Ozenfant Academy of Fine Arts in London. Through a book ('Surrealism' by Herbert Read) gifted to her by her mother, she became familiar with Surrealism.
Although her parents made it possible for her to, in one way or another, to study art, they were not supportive of her pursuing a career in art. Her father even later decided that he never wanted
to see her again after she decided to move to Paris with Max Ernst and pursue her career as an artist. Max, she got to know in first through his paintings exhibited at the 'International Surrealist Exhibition' in London 1936, which she felt drawn to and then in person 1937, at a party. They soon fell in love with each other and decided to move to Paris. In Paris, Leonora was introduced into the circle of Surrealists and got an insight into how her life could look like now as an artist. After a year of staying in Paris, they decided to move to the South of France (Saint Martin d'Ardèche) away from the turmoil of the city and to fully dedicate themselves to their art creating.
In these years Leonora created some key paintings which formed her vision of how she wants to be as an artist, a woman, a person, and what impact she wants her artwork to have. When World War II started Max was arrested first by French authorities and then again by the Gestapo because his art was considered 'degenerate' by the Nazis. Max's arrest was very hard for Leonora and since she had nothing left to stay for she agreed to go to Spain with a friend. Her anxiety and delusions came to a peak there which ended in a psychotic break and getting admitted into an asylum. There she was given Electroconvulsive therapy (ECT / formerly known as electroshock therapy), Cardiazol (an anxiety-reducing drug) as well as Luminal ( a drug acting as a central nervous system depressant). After being released she was informed that her parents decided to send her to a sanatorium in South Africa. On the way there ( she was released into the care of a keeper) she was able to escape to Portugal. There she met Renato Leduc, a poet, and Mexican ambassador, who she agreed to marry to be accorded the immunity of a diplomat's wife. After a year they decided to move to Mexico, with which Leonora instantly fell in love, and continued to live on and off for the rest of her life. From now on she fully worked as an artist and lives committed to her work. A lot of her written works and books also emerged in that time. In 1943 she and Renato divorced. Later she married again, Emerico Weisz, a photographer, with who she had two sons (Gabriel and Pablo).
Leonora died on the 25th of May 2011 in Mexico City, at the age of 94 years.
Leonora Carrington – Artwork
I first got in touch with her work through a documentary I watched on women artists in the surrealist movement and was completely mesmerized by it. Her paintings hold a lot of power which is just contagious. In her artwork, she uses a lot of symbolism, mysticism, and figures from fairytales (as seen in her painting The Giantess), a lot of them from Irish tales her nanny and her mother told her. Her works compare to the style of surrealism although she never said of herself to be a surrealist.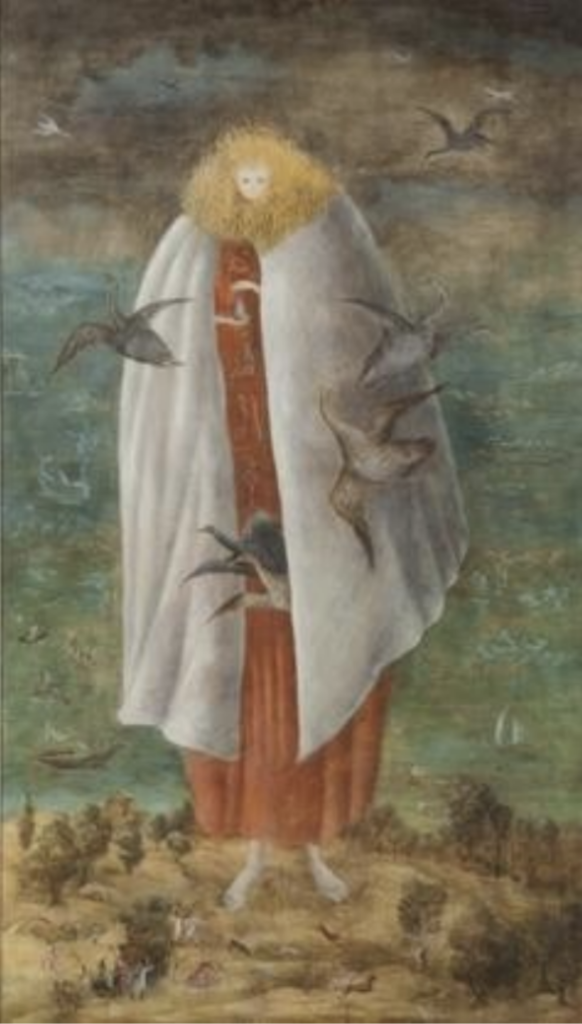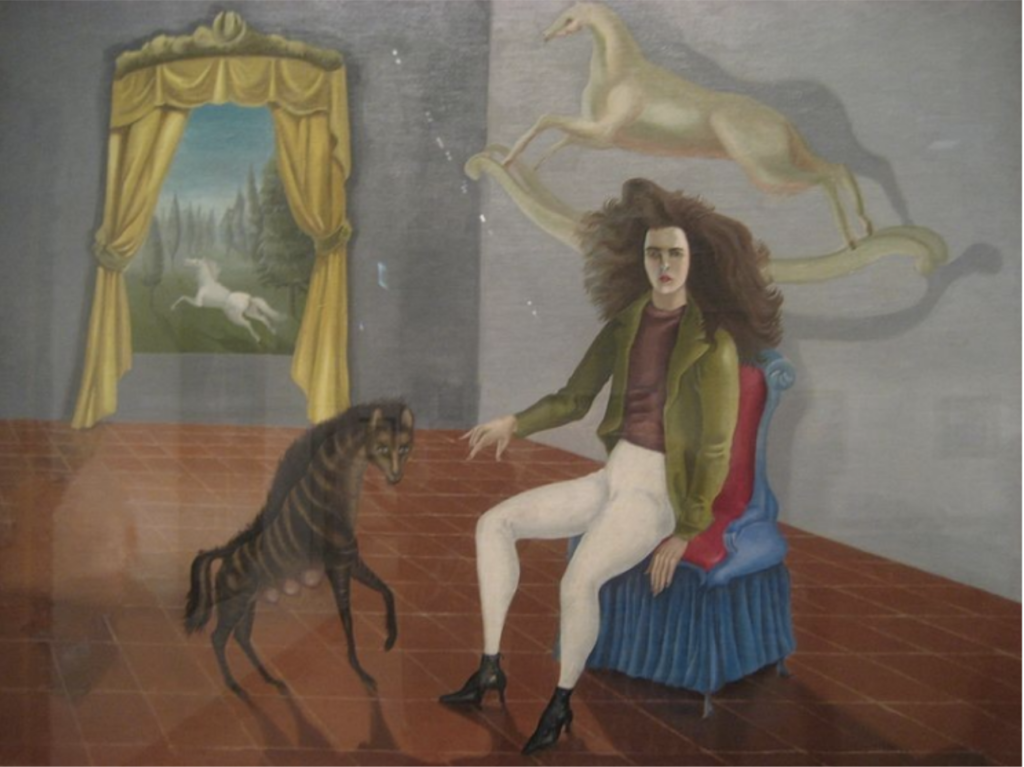 A focus in her work was to present female sexuality as she was experiencing it instead of just presenting the theory and characterization of female sexuality (what a lot of male surrealists did). A good example of that interest is her painting Self Portrait (Inn of the Dawn Horse). I would describe this painting by her as one of her key works since it set free a lot inside her what inspired her for a lot of her future work. The hyena in Self Portrait for example is used a lot in her later works (for example in her short story La Debutante) and is a symbol for both male and female joining into a whole and used metaphorically for the night and dream worlds. This is interesting since Leonora often felt like she lived partly in a dream world and is then making it visible through her work (especially her paintings).
Her written works are also very interesting to read. Since she worked a lot of symbolism it's almost like
you're solving little riddles or mysteries hidden in the text which makes you think deeper about topics and how we view life. What also impressed me about her is writing down her experiences in the asylum and expressing them through paintings (for example in Portrait of Dr. Morales and Map of Down Below) in a time where mental illnesses and mental health had an even worse status than they do today, with even worse stereotypes and cliches surrounding it and with mentally ill people treated very badly in the existing asylums. She explained everything that was done to her, including sexual assault, ruthless therapies, being given hallucinatory drugs, and living in unsanitary conditions.
This woman and artist fascinate me so much because no matter what came into her way she believed in her dream and how she wanted to live her life and followed that relentlessly. She stood up for what she believed in and made that seen in her artwork. She also holds a lot of power and energy in everything she did. She reminds me of the power I have within myself (we all have), to live my life the way I want to, and to follow my dreams.
"There is nobody that can make you happy, you must take care of that matter yourself."

Leonora Carrington.
If you liked this first episode and want to read more about Leonora Carrington and explore more of surrealism, join our Patreon Membership where we dive deeper into Art. Click here to join.