I have never thought of following a specific aesthetic theme for my page. Everything follows my own aesthetic views and what I find beautiful and attractive. For me this is the Aegean Sea and the islands, the careless and slow way of living and the local traditions such as its cuisine and habits.

Rays of Sunshine is Vivd
Amira Hassan: Tell our readers your artistic background.
Nikolas Pantagias: To be completely honest, I have never uncovered an artistic background in the past apart from my love for photography. I've always been fascinated by capturing the Aegean Sea at all times of the day, the sunsets, the waves. 
2. How did you come across your creative side?
It all started back in March of 2020 – aka the first lockdown month. I was flying from the Netherlands, where I've been living for a year, back to Greece to isolate and spend the next months with family and friends, waiting, like everyone else, to see how Covid-19 will affect us. On my way to Schiphol Airport, I had my backpack stolen from me, with all my precious belongings stored there. Thankfully, two things that I had in my pockets, remained in my possession. My passport and my iPhone. I then had no choice but just get on the plane, carrying only those two things and a big suitcase, and fly home –Greece. In the next following days of isolation in Greece, my only escape was my thoughts on what I love the most in this life. Greece, its sea, its way of life, its people. As a result, I had this idea of creating an online "portfolio" illustrating all this into one collection. 
That day, La Vie est Grecque was born.
3. Why have you chosen this aesthetic theme for your Instagram page?
I have never thought of following a specific aesthetic theme for my page. Everything follows my own aesthetic views and what I find beautiful and attractive. For me, this is the Aegean Sea and the islands, the careless, and slow way of living and the local traditions such as its cuisine and habits. I believe I can simply characterize it as a blend of Mediterranean classy simplicity. For me, the main difference between LVEG from other similar pages which promote Greece is the addition of an artistic touch on each post and story and not simply being an online travel guide.
4. What is the message you want to spread in the creative world?
As my Insta bio states, my main goal is to share the content of Greece's artistry & simplicity with the world. By doing this I'd like to make others better absorb and love the traditional Greek way of living and how it can be perfectly combined with some new contemporary features.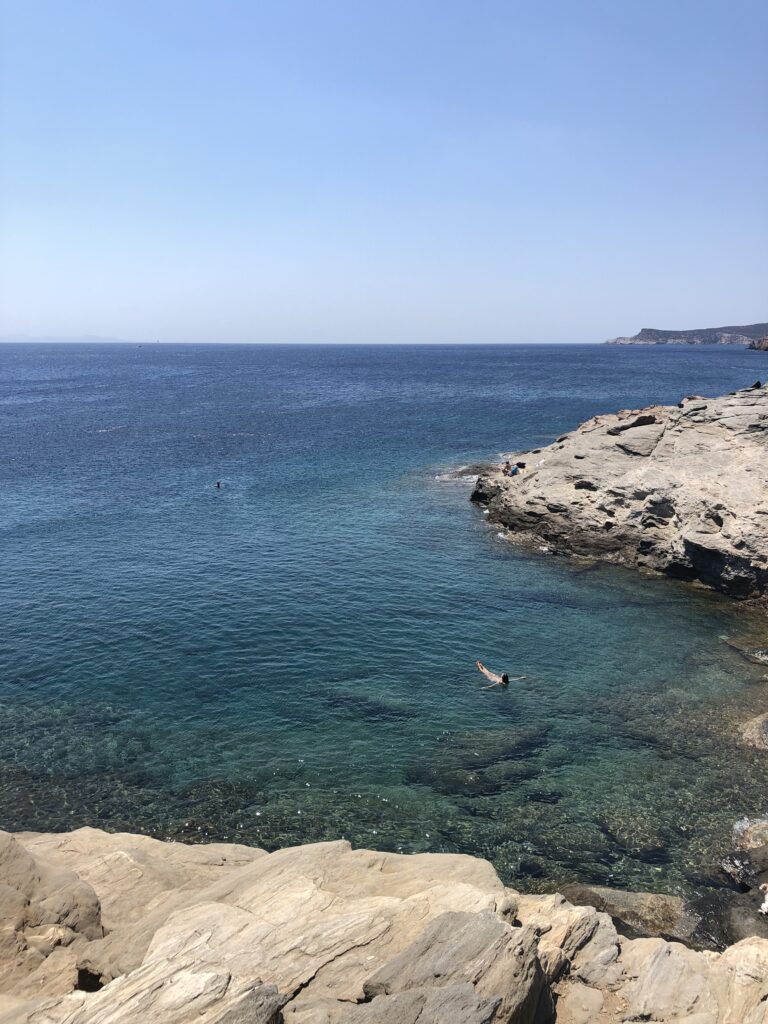 5. Can you share your creative process in making your posts and photo collection?
On my account, apart from posting only my own content I also share many photos of other creators – who I admire. Most of my captions are random thoughts of mine, some of which are having a funny/direct tone and others quotes I live by.
6. Your captions are well curated and beautiful. How do you research your rays of sunshine?
As a habit, I've been keeping a "Captions" note on my phone before the time I started all this, where I keep all the nice captions & quotes, I find online, I see on posts, I hear on songs, I see on advertising banners, etc. That's my go-to catalog where I sometimes go to retrieve ideas.
7. Where do you get your inspiration from?
I look no further than outside my window. Living in Greece throughout the year is my biggest inspiration. I live next to the sea; I swim all year round and try to be close to the sea as much as I can. It simply is my mood booster. For the past 2 years I had been living in London and that's when my love for Greece became even greater and I realized that life is too short not to be where you want. However, I regret nothing, since if it wasn't for my years spent living abroad, I wouldn't probably have this passion for Greece coming out.
8. Share a quote from your favorite artist that resonates with you.
The big lesson in life, baby, is never be scared of anyone and anything – by Frank Sinatra. I kept following this one since the first time I heard of it. It's nothing more than the honest truth about this world and how everyone should think about it.
9. What value would you like to amplify in this world through the rays of sunshine on your page?
On my posts and stories, I try to give each one of my followers their daily dose of blue, as I call it. 
10. What social media creator would you like to meet or collaborate with in the future?
There are many creators I admire, for different reasons in each of them. I've managed to meet some of them already such as @thegreeksummercollection. I'd like to meet others such as @katerinakatopis, @yolandaedwards & @eratomediterraneo.
11. What would you love to achieve in your dream plans?
They say, do your hobby your job. So having that in mind, I have the dream of turning this into my full time "job" and travel & reside around the Greek islands.
12. Do you think there is something you can bring to this world through your rays of sunshine on your page which couldn't in any other field of work?
Everyone of us is different and has their own perspective of the world. My aim is sharing my own one, and showcase in a library photos which promote the life of my dreams. 
13. Share with us the most beautiful testimonial you've got from your audience that touched your heart deeply and added valuable insight?
It's not only one I can currently name, but one that still comes often in my mind – especially when I'm overwhelmed with work, stress etc. – is that they get motivated and sunny island vibes all year round whenever they wake up and see a post on La Vie est Grecque.
Follow him on Social Media
Nikolas Pantagias ~ La Vie est Grecque
Editor Amira Hassan introduce a new interview series on the uncoiled magazine website about a collection of instagram pages that have added an immense cultural value to our daily lives, they have added rays of sunshine in our intellectual mind with daily posts about inspiring poets, artists, photographers and writers. They enriched our world with quotes from heartfelt classic movies, from Breathless in French new wave films, to Studio Ghibli beautiful and colorful movies. We would like to give the spotlight to these personalities whose work is most valuable in the social media world, and their creative endeavors deserve recognition and appraisal.