'The Gym', who found their temporary home in the Soho Studios in Vienna, is a hybrid place, connecting an exhibition with trainings and performances. The overall theme is to create a counter draft to stereotypical and normative body cultures and body images.

The exhibition, curated by Petra Poelzl, is showing works by artist who are searching for strategies of resistance to break power structures open, to challenge the viewers and to question visual and perceptive mechanisms. It also has parallels to sport and training, seeing the process of art making as a kind of training process, workouts as in working ideas out until they are the finished artwork, playing with and questioning set pieces of the fitness industry and understanding protest as a training program for our body. Connected to this is the core of The Gym; a gym-like space where different training sessions, classes and workouts are held (like Calisthenics, Yoga, Pilates, Animal Flow, Transformational Breathing,..). The collection of trainings and performances is curated by Betül Seyma Küpeli, mirabella paidamwoyo* dziruni and Johannes Maile.
For the following let me give you a little tour through the exhibition in 'The Gym'.

The first artwork you are greeted with when you enter the space is by Karin Ferrari. The sculpture, in the form of a big dreamcatcher, is a hybrid out of objects transcending the borders between superstition, religion, technology and consumerism; transcending all cultural categories and practices (objects in the dreamcatcher are among others Nike Jordan Sport DNA Mesh jerseys, Jane Fonda Aerobic VHS tapes, faux fur,…).

To the dreamcatchers right you find artworks by Thenjiwe Niki Nkosi and Philipp Muerling.
Thenjiwe's painting 'Qualifiers' shows a group of young black female athletes, putting their hands on each others shoulders to comfort or encourage each other, calling attention to collective Care- practices. Thenjiwe's second work in the exhibition, the video work 'Suspension', shows closeups of different young female gymnasts (different ages and from different time periods) in private moments and different emotional states and states of mind. It gives an insight into moments before and after an athletic performance, highlighting the human aspect.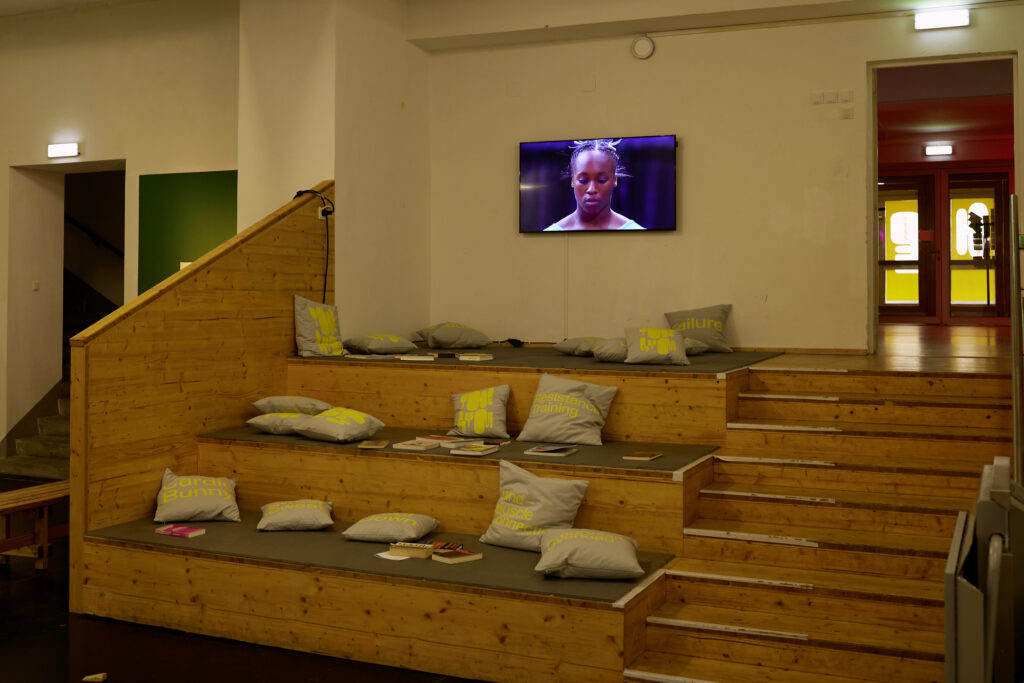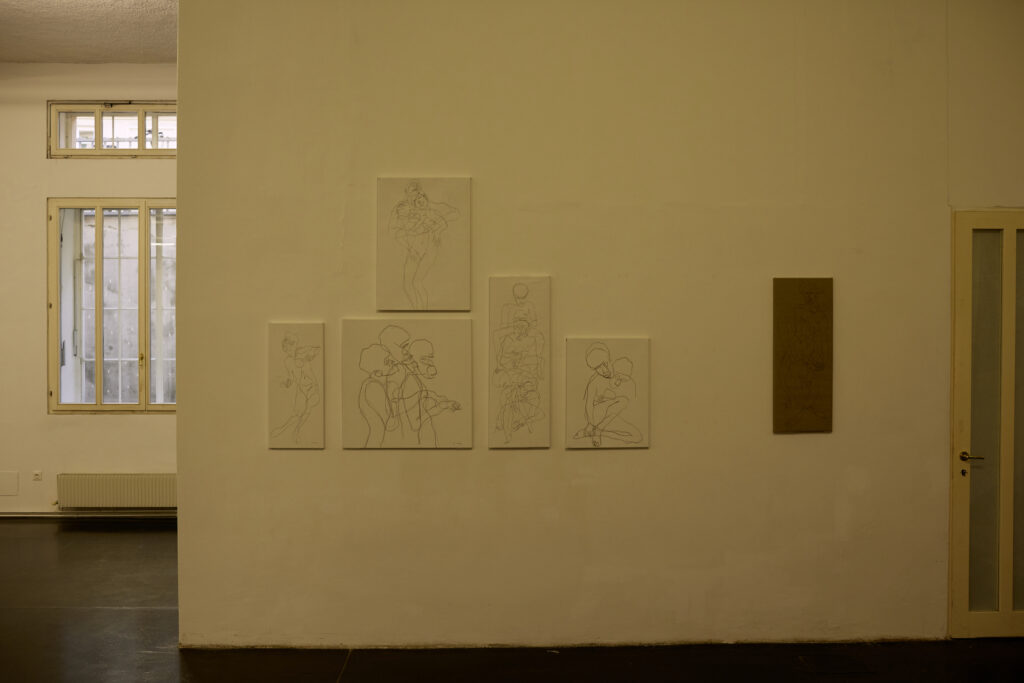 Following the exhibition further around it's core (the literal gym/workout space) you encounter the artworks by Kubra Khademi. The series 'The Birth giving or Giving birth' shows a woman who on one hand births a young girl and on the other hand different domesticated animals. It thematizes and criticises the situation of women in a patriarchal society and the situation of women in her home country Afghanistan; their condition being reduced to the one of pets and their only purpose being to birth children.


'The Birth giving or Giving birth' by Kubra Khademi



Further down the path around the core we encounter artworks by Anna Ehrenstein and Eisa Jocson. Anna's selection of works is a collection of a collaboration with the artists Fadescha, Blair and Clint Opara and Beccy-Pokua Korang. The starting point from which they developed the works being the experiences all five made with public protests they supported. All works being shown on fitness equipment shows Fadeschas point of view that protest is not only a mental workout but also one for the body.
Eisa's body of work emerged from her research of the praxis of 'Macho Dance', a dance style which is particularly performed in the night clubs in Manila. Her work questions gender norms and the colonialistic shaped culture of her home country.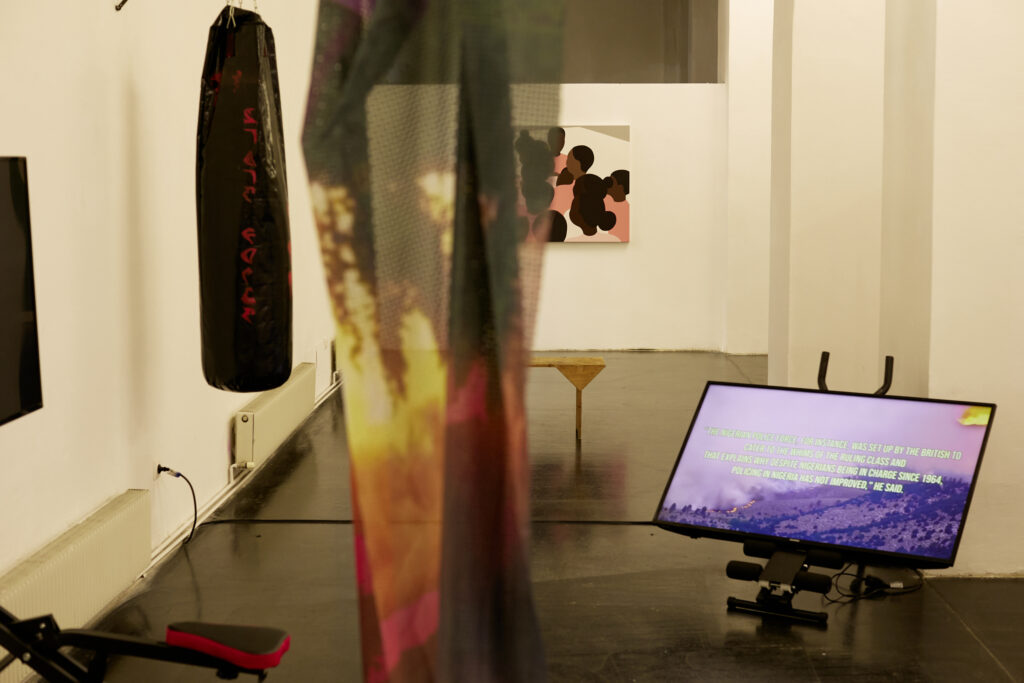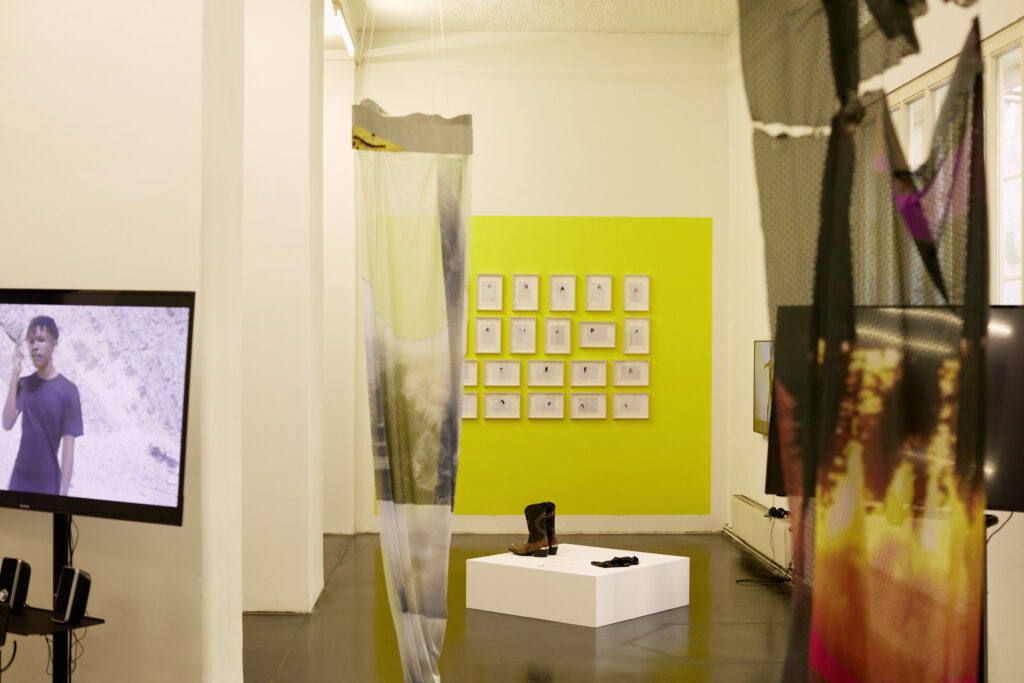 Before we go off the path around the core a bit we come to works by Valie Export and Elisabeth von Samsonow.
Valie Exports work is for one thing her famous photographic work 'Aktionshose: Genitalpanik' (engl. 'Action pants: genital panic') and on the other hand a video work titled 'Ein perfektes Paar oder die Unzucht wechselt ihre Haut' (engl. 'A perfect couple or fornication changes it's skin').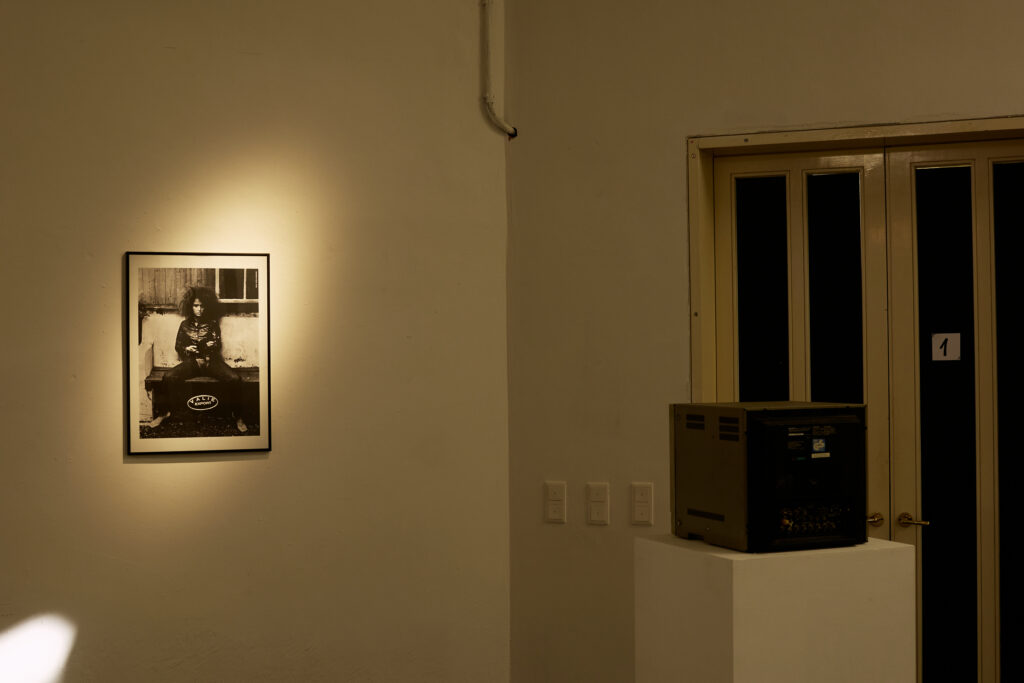 Elisabeth von Samsonow's work is composed of a group of sculptures ('Die Wölfin', 'Die Buchfresserin', 'Die Läuferin' (engl. 'The Wolf', 'The book-eater', 'The runner') ) and a photographic work ('Arnold Schwarzenegger, ca. 1970er').


Now we come to the work by Suzanne Lacy. Suzanne's video work 'Whisper, the Waves, the Wind' is a recording of a performance where, 1984, 154 women at the age of over 60 and dressed all in white, came together and talked about their lives, relationships, hopes and fears. The work conveys the intimacy of sharing personal experiences into a political exploration of gender-specific aging and questions of cultural visibility, dignity, respect and access to resources which are connected with that.


Further we go and come to the works by Tianzhuo Chen and Sophia Süßmilch.
Sophia's body of work is a selection of photographic works which dismantle patriarchal structures in a humorous and colourful way.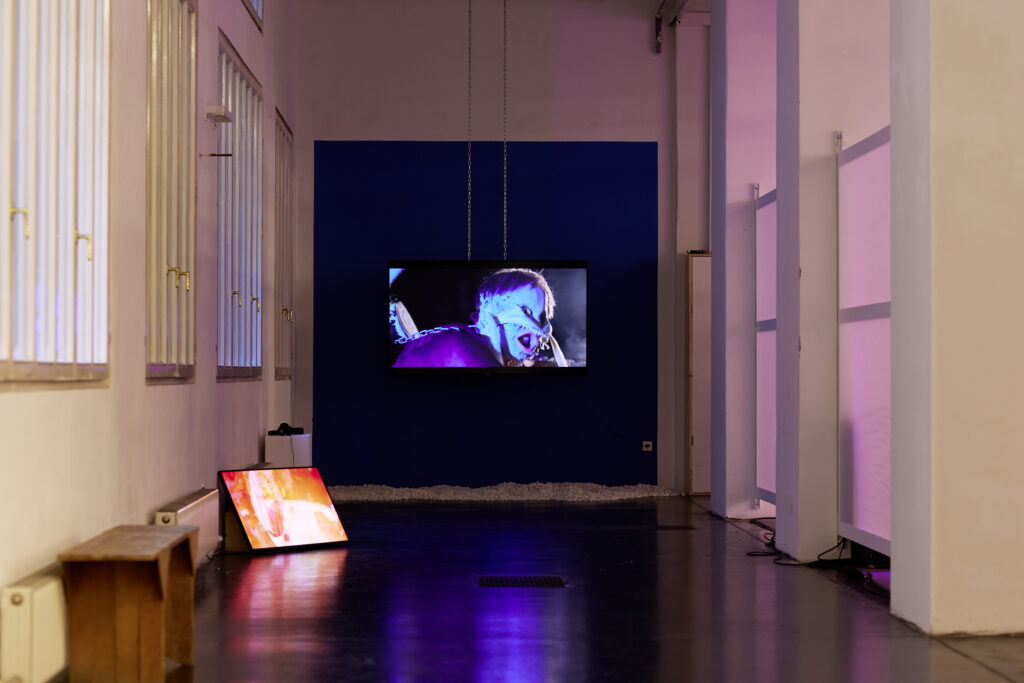 Conclusory we come to the work by Mel Baggs and Howardena Pindell. Mel Baggs video work 'In My Language' describes the experience of living as a person with autism. Howardena's video work deals with the severe divide between black and white Americans by appearing as both herself and as a white woman.

What I find so beautiful about 'The Gym' (besides it's amazing artworks, performances and workouts) is interconnection and exchanges between all of this forms of expression, and the audience becoming part of this total work of art and all of it's processes. It opens up a new and enriching space to experience, explore, try out, feel, move and be moved and for community.


'The Gym' (and all it's workouts and performances) is still open until the 4th of December 2022.


















Photo Credits: © Peter Mayr

Instagram:
https://www.instagram.com/petra_poelzl/
https://www.instagram.com/shaymaku/
https://www.instagram.com/mirabellapaidamwoyo/
https://www.instagram.com/annaehrenstein/
https://www.instagram.com/eisajocson/
https://www.instagram.com/elisabeth_von_samsonow/
https://www.instagram.com/howardenapindell/
https://www.instagram.com/trashmysticism/
https://www.instagram.com/kubra_khademi/
https://www.instagram.com/muerling_/
https://www.instagram.com/sophia_suessmilch/
https://www.instagram.com/suzanne.lacy/
https://www.instagram.com/thenjiwe_niki_nkosi/
https://www.instagram.com/asian_dope_boys/
https://www.instagram.com/ateliervalieexport/