It is a sign I believe that a true reader and seeker finds something that he/she needs when the time as well as the emotions are set in place. It doesn't matter from which religion or belief system one belongs too, to understand this book with the light that it is written with. This review is something that you would call biased or something I would call non- critic. This review is to appreciate and acknowledge a piece of art the world deserves to know about.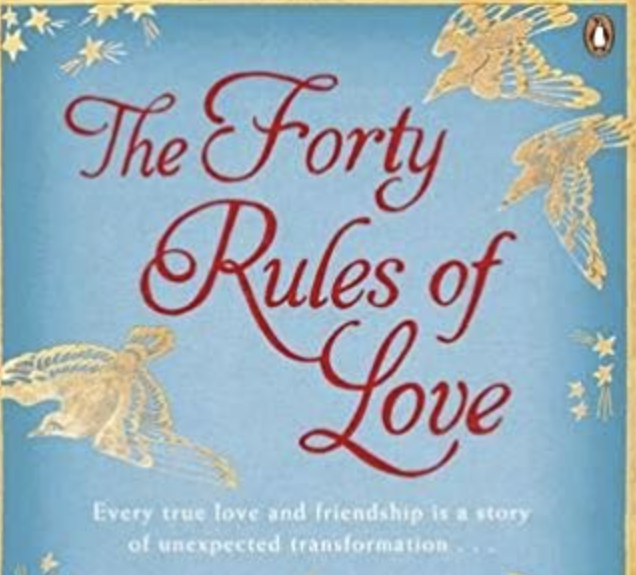 It is no surprise that the plot of this book sets us in a place that we have all at some point found ourselves in, and that is midlife crisis. Now, not all would be fortunate enough to find an Aziz Z. Zahara in life but, it is true that one would be able to comprehend the 40 rules of love that shape our existence and the life we lead. Ela Rubenstein, the unhappy 40 year old who is suffering from a midlife crisis is shown into light when she starts reading a manuscript of a book written by an mysterious writer named Aziz Z. Zahara.
The book follows on with not only one story but stories of men and women belonging to the time of the 13th century. The book goes on explaining each of the 40 rules of love in a manner that is so subtle yet so intelligible that it is hard for one to see such truths in broad daylight whereas otherwise some might feel the need to go to extreme lengths to make sense. The 40 rules of love, does not fail to show life from every prospect, from the eyes of a beggar, to the eyes of a drunk and from the eyes of a prostitute.
The book symbolises the very existence of love in every little object. We are all whirling dervishes but our hearts wander to different kinds of love and the book explains that each of these kinds make sense and that each is as pure as the love of God.
Some might find this book religious and perhaps it is but to a person seeking a truth beyond religion this book is the easiest way to understand life and this world. Having found this book at the right time in my life and understanding love with great seriousness one might feel in absolute oblivion after understanding these simple rules but the vast meaning behind them. Looking at life not only from it's high points but also gazing at it from the lowest this world has to offer will change the way any person will look at love. It would not just do that but it will untie you from religion and take you into the light of individualism.
The book is special because it is narrated not only by its main and side characters but also by Shams of Tabrizi and the great mystic poet Rumi, and gives them a voice that for the people of this age is comprehensible. The book does not only shed light on the rules of love but is liberating and provides a person with freedom to make sense of the book in their own manner. It is truly a delightful read!