I first discovered Sophie's poems through Instagram and was immediately mesmerized by them.
They are just so raw, honest, and straight from the heart. What they express might not always be easy to hear or to process, but the truth often is not. And at the same time they are giving comfort, that through this all, it indeed will be better.

For the following I asked Sophie if she wants to do an interview with me:



Luna Maluna Gri: Tell me a bit about yourself and your work.

Sophie Hüls: Hello my name is Sophie, I am 20 and originally from Stuttgart but l am living in Vienna for 1.5 years now. I study public relations and communication science at the University of Vienna.


LMG: How and why did you start writing poetry?

SH: I started writing poetry pretty early at the age of 12 years but it was just here and there and sadly I lost the book in which I used to write them in.


LMG: What role does writing poetry play for you?

SH: After finishing school in August 2019 I had an impulse to write a long poem about how I want my life to be and it made me so euphoric that from that day on I got into it again. I wrote poems about current topics in my life, processing things about my past, dreaming about the future, or simply writing love poems whenever I had a crush on someone. When I moved to Vienna I published some of them on Instagram because I wanted to share the outcomes of my favorite hobby. I wanted my art to be seen but also to make someone that reads them feel understood or motivated to start writing or publishing themselves since I have a lot of friends that write poetry but never published any of their amazing work.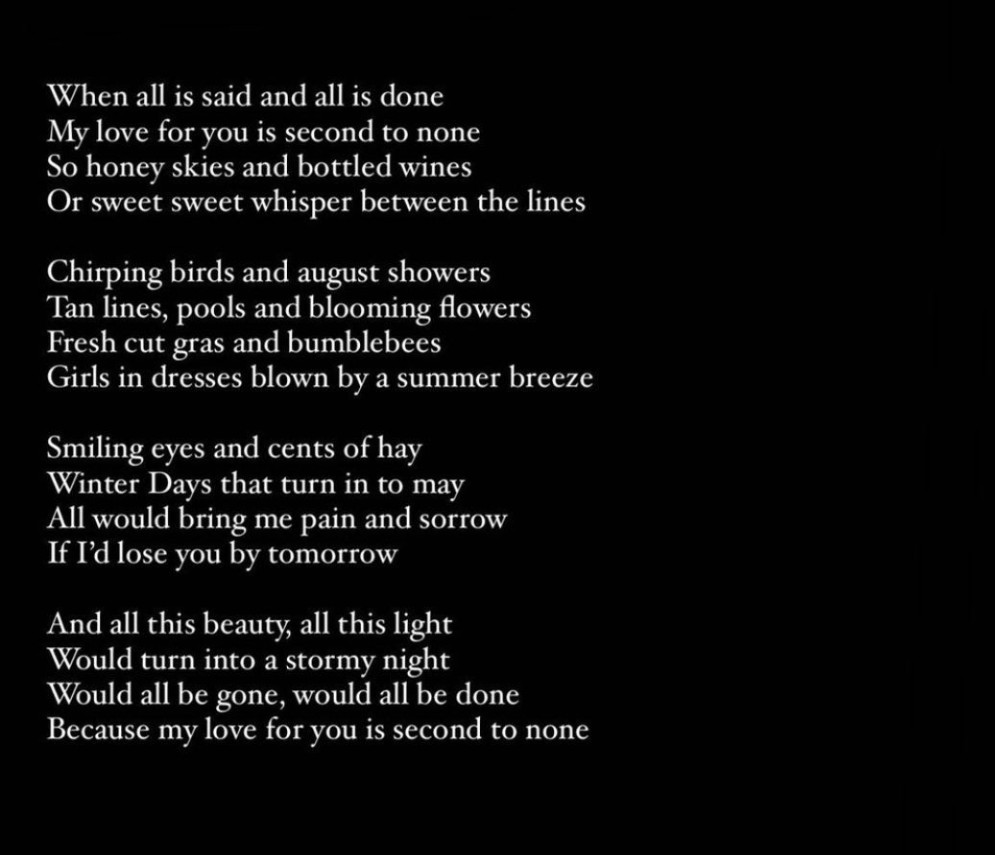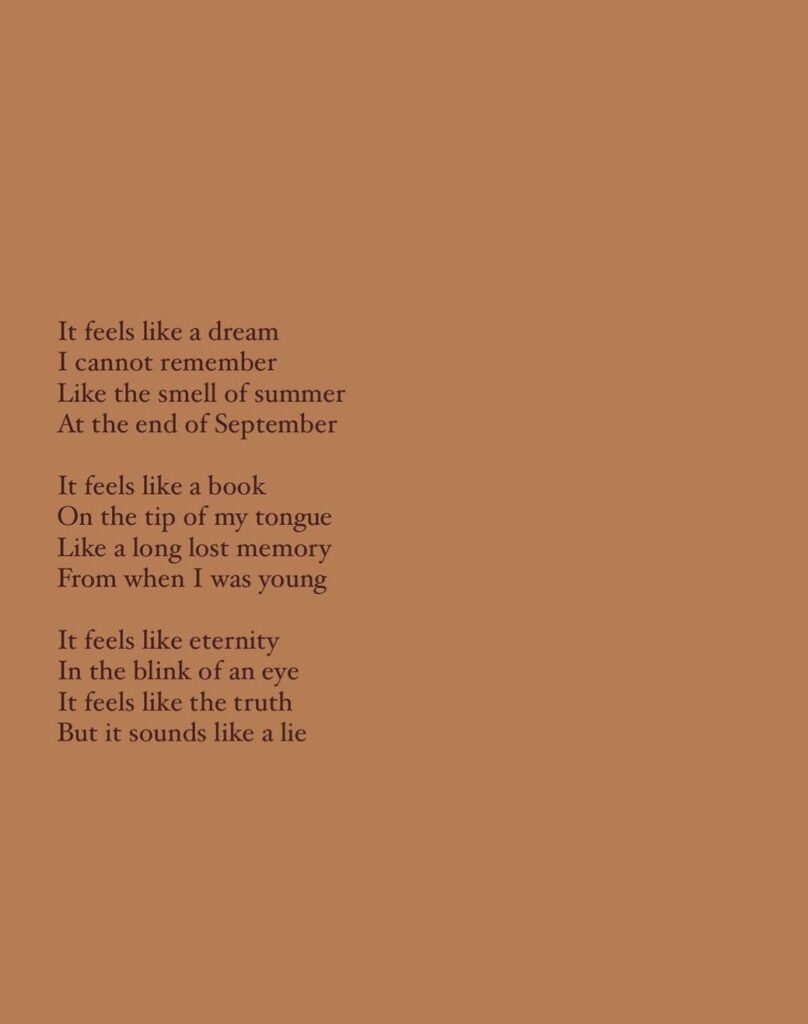 Poems by Sophie Hüls





LMG: Is there something you want to change about the art world? If yes, what and why?

SH: If there is anything I would change about the art world, then that it has less to do with money and names and more with talent and intention or effect.


LMG: What do you think is/are the role/-s of artists and art in our society?

SH: I think the role of art in this world is what makes us human, a way of abstract communicating, expression of feelings. It's something that gives us culture and history. That makes us understand, express, feel heard. A world without art would be gray. Art is not just painting, poetry, or any craft. Art is everything that is with intention or has an effect on someone. It's like the first domino that leads to something bigger. I can't count how many times I read a quote from a book or a movie and thought to myself "oh my god I haven't thought about it that way" or "I feel like I am not alone with this" which caused me to feel different and then to behave differently, which also had new effects on parts of my life or other people.
I also love when I meet people that write themselves. I love talking about poetry, reading it, analyzing it, discussing it with others. Its communication about communication. It's beautiful. It warms my heart. It literally gives me dopamine kicks. It creates friendship and connection. So you could also say art is what connects us with each other. Art also is very important for the mind. It's one of the best forms of processing emotions. I myself used it to make me feel heard when I felt alone and to reflect on my past. As cheesy as it sounds it was like free therapy for me.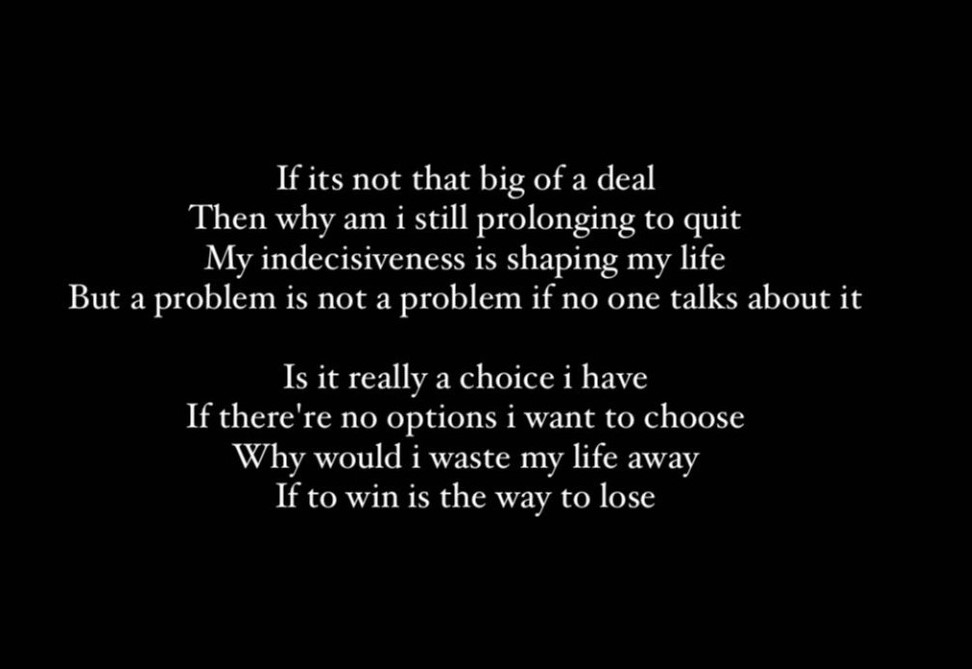 Poem by Sophie Hüls






LMG: What does your creating process look like?

SH: My creating process usually starts with something that happened in my life and that got me thinking or an emotion that takes up a lot of room in my head and that I want to release. When my thoughts wander I come up with a first sentence or a word I find cool and then I write it down in the notes app of my I-phone and then I just get into a flow state. One time for example I had a conversation with someone in my dream and the last sentence before I woke up was the first one in one of my poems (unpublished). I completely forget the time when I write but I normally write a poem in one go. Sometimes 30min, sometimes up to 4 hours – but these 4 hours feel more like 10mins (laughs). Then I show it to a friend, let it sit a few days, and publish it.


LMG: What inspires you?

SH: I am most inspired by people and friends. They don't have to be "poets". Sometimes I talk with a friend and she/he says something that I find fascinating. A certain word in a certain context or a view of a situation I haven't thought of myself. Sometimes I publish a poem without telling them that they inspired me, just to see if they realize it themselves.


LMG: Is there something you want to achieve in your art life? Dreams? Future plans? Or projects you
would like to do?

SH: I would really like to publish my own book someday or get one poem published in a magazine. But for now, my plans are just to write when I feel like it. Forcing it or having to do it as a job will never be an option. I write because it makes me feel free, it's one of the things I don't feel pressured to do, that's why I love it.


LMG: Do you think there is something you can bring to this world through your work as an artist which you couldn't in any other field of work?

SH: I feel like what I can bring into this world with my art is to make someone feel understood. That's my main goal in life, to feel understood, to understand, and to make others feel understood. It's a process and not always easy but I try every day.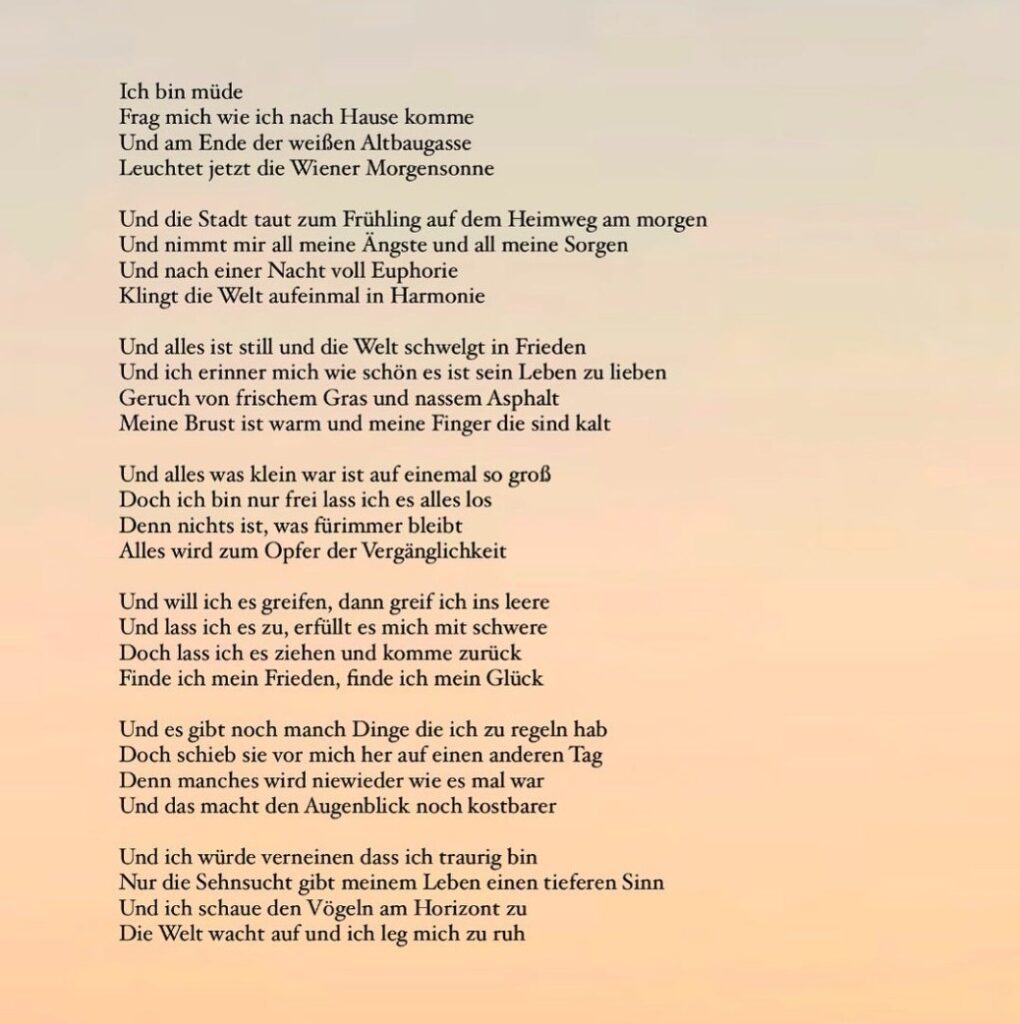 Translation:
I'm tired
Questioning how to find my way home
And at the end of the white street with old buildings
the Viennese morning sun is glowing
And the town is defrosting into spring on my way home
And is taking all my fears and sorrows away
And after a night full of euphoria
the world is suddenly sounding in harmony
And everything is still and the world is indulging in peace
And I remember how beautiful it is to love your life
The smell of fresh grass and wet asphalt
My chest is warm and my fingers are cold
And everything that was small is suddenly so big
But I'm just free, let everything go
Because there is nothing that stays forever
Everything falls victim to evanescence
And if I want to grasp it, I grasp into emptiness
And if I allow it, it fills me with heaviness
But if I let it go and come back
I'm finding my peace, finding my luck
And there are some things I still have to take care of
But I'm putting them off on another day
Because some things are never going to be again how they once were
And that makes the moment even more precious
And I would deny that I'm sad
Only aspiration gives my life a deeper meaning
And I'm watching the birds on the horizon
The world is waking up and I lay myself to rest


Poem by Sophie Hüls












Copyright to all poems and pictures: Sophie Hüls