Bárbara Moura
I first got in contact with Bárbara's artwork when I saw some of her pieces exhibited in a gallery here in Vienna. I was immediately stunned by them. They are very powerful but vulnerable at the same time and have a certain gentleness to them.
I also really love her use of color. They are such rich and clear colors and always compliment each other very well.
For the following I asked Bárbara if she wanted to do an interview with me:
Luna Maluna Gri: Tell me a bit about yourself and your work.
Barbara Moura: Hi, I am Bárbara Moura and I am an artist natural from Lisbon, Portugal. I graduated in film from the National Film School in Lisbon and then decided to try something else and moved to London to do my MA at Central Saint Martins, during this time I did a lot of research and drawing work. Then I decided to try something else and I started painting after moving to Vienna, where I am currently based.
LMG: How and why did you start creating art?
BM: I started doing art like all small kids used to. In school, at home doodling funny things or making family drawings, or holiday drawings, then came some art summer school workshops, and guess it just went on and on
LMG: What role does making art play for you?
BM: I don't even think much about it anymore… it certainly doesn't feel like working as other jobs did. I guess at the moment it's pretty natural to me and I can't really separate myself from it, I am always working inside my head or outside my head. I guess it's fundamental for my well-being as well, it's the best sort of therapy!
LMG: What do you like more about painting and what more about creating digital artworks?
BM: What I like about digital drawings is the independence, you don't need an atelier or studio space, you don't need materials, you don't need material knowledge, money, etc, etc, it's just you and the computer. And I like the coloring too. With painting is a whole different story. I am a self-taught painter so I guess painting is a real challenge, but I find it much more rewarding. I always feel like there´s some higher power when it comes to painting.
LMG: What do you think is/are the role/-s of artists and art in our society?
BM: I used to think artists have some saving duty towards society and responsibility in portraying some sort of truth, but I guess I don't see it like that anymore, the only role artists have is to be free, being an artist is hard enough. And somehow the roles society sees in them always end up mirroring.
LMG: What inspires you?
BM: People, their atrocities, their problems but also their beauty. I guess the vulnerability in things really inspires me too.
LMG: What artist/artists would you like to meet (dead or alive) and if you had one question what would you ask them?
BM: Dead, probably Alice Neel. Picasso would be a guilty pleasure. Probably Paula Rego. No idea what the one question would be, I think I would have many.
LMG: What does a normal creating day look like for you?
BM: Since corona, I guess I have a quite tidy routine. I have become a real morning person, at the moment I have done a live-in-studio and I like to work during the day. Sometimes I paint, sometimes I do my oil drawings, sometimes I have whole days cleaning up or whole days of just resting and thinking which are still part of my creative process.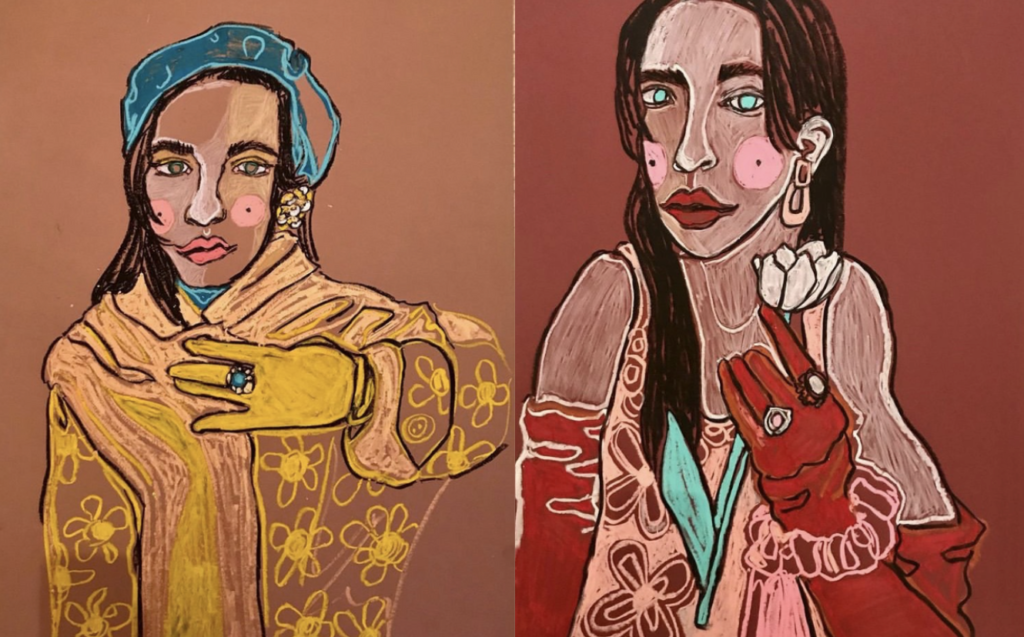 LMG: What is something you can't create without?
BM: I think I really appreciate working in silence at the moment, I discovered it is quite effective for me.
LMG: Is there something you want to achieve in your art life? Dreams? Future plans? Or projects you would like to do?
BM: I really hope I live long enough that I can see all my work in retrospect as a biography, it must be great to look at your whole life through your body of work. I hope I have the stamina to handle it so far. A museum exhibition would definitely be a dream.
LMG: Do you think there is something you can bring to this world through your work as an artist which you couldn't in any other field of work?
BM: Yes, I think every artist can (judgment on quality aside of course…) that's what art does, spits out stuff you can't quite say with words for example. I think I can truly express my emotional world in a way I can´t imagine possible in any other.
Instagram: https://www.instagram.com/b_moura/
Website: http://www.barbara-moura.com/de/
More Interviews live these: https://theuncoiled.com/2021/06/11/loreen-reschke/