"Life is a farce if a person does not serve truth" – Halima af Klint.
born 26th of October 1862 in Solna, Sweden
died 21rst of October 1944 in Djursholm, Sweden
Hilma was the youngest of four children. Besides her deep love for nature, which later showed an interest for botany she also inherited an interest for mathematics from her family.
In her younger years she went to an all girls school.
Hilma also showed an early ability in visual art and after the family moved to Stockholm she started studying at the University of Arts, Crafts and Design there. Being taught by artist Kerstin Cardon, mainly portraiture and landscape painting.
Two years later, in 1882, she was admitted at the Royal Academy of Fine Arts in Stockholm, being twenty years old at that time.
There she mainly studied drawing, portrait painting, and landscape painting. In 1887 she graduated with honors and was conferred a scholarship in form of a studio in the Atelier building of the Royal Academy of Fine Arts in Stockholm.
Hilma was also one of the first women artists which was admitted to study at the Royal Academy of Fine Arts.
Soon after Hilma started working in Stockholm she gained recognition for her landscapes, portraits, and botanical drawings, which was also her source of income but what has become known as her 'life's work' was a quite different practice in style.
The starting point for it was the death of her sister Hermina in 1880. With that her interest in spirituality and then later also in spiritism developed. She also became interested in the Theosophy of Madame Blavatsky, the philosophy of Christian Rosencreutz and in the Anthroposophy by Rudolf Steiner, whom she later met in 1908 and his theory on the Arts had an impact on some paintings she did after that.
In 1896 Hilma and four of her friends and fellow artists established the group 'De Fem' ('The Five'), a group of women who shared her ideas. The other members were Anna Cassel, Cornelia Cederberg, Sigrid Hedman and Mathilda Nilsson.
They were all interested in the paranormal and regularly conducted séances. They documented their experiences in notebooks and practiced 'Écriture Automatique (= automatic drawing and writing, the original form of 'stream of conscious' writing) long before the Surrealists did.
Through this process of creating Hilma understood step by step that the unconscious is her motivation to create art.
In 1906 Hilma painted her first series of abstract paintings.
Being also the continuation of an otherworldly experience she had in 1904. During a séance, she heard the voice of an entity named Amaliel who requested her to paint 'the immortal aspects of humans'.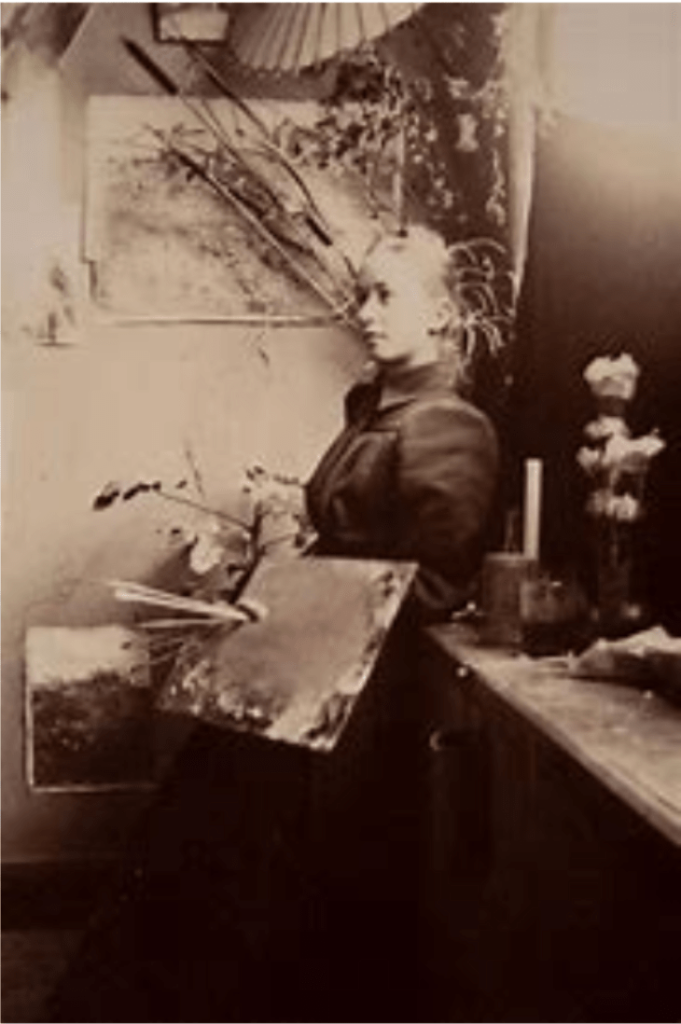 As she discovered her new form of visual expression, a new artistic language developed with it. Her painting became more autonomous and more intentional.
She describes the process in this period as being guided by a 'force' and driven by a 'higher power'.
This period also marks her most creative period and the paintings which emerged from it are now known as her 'life's work', her main work, which encompasses 193 paintings.
From 1921 till 1930 she set a focus to cataloguing and photographing her work, documenting her process and reviewing previous discoveries.
Despite the popular belief that Hilma decided to never exhibit her abstract works, there is enough evidence to show that she at least made an effort to do so (uncovered by art historians such as Julia Voss).
An exhibition of these works, for example, took place in London in the mid 1920's.
With only having her works exhibited a handful of times, she left all of them to her nephew Erik af Klint and arranged in her will that all of them should only be made public at least 20 years after her death.
Hilma died on the 21st of October 1944 in the aftermath of a traffic accident.
Hilma af Klint– Artwork
"The pictures were painted directly through me, without preliminary drawings and with great power. I had no idea what the pictures would depict and still I worked quickly and surely without changing a single brush-stroke."
Hilma is considered to be the pioneer and inventor of abstract art, and not as many believed before Kandinsky (his first abstract paintings were dated five years after Hilma's first ones).
Hilma's driving force in her art is spirituality and the invisible world. She always said that she felt like not she herself was painting the paintings but they were channeled through her by spiritual beings.
In her artwork she works with a lot of symbols, using a lot of shapes and colours and letters holding different meanings.
She developed her own vocabulary of forms, which is not narrating from her inner self but is seen as the wisdom of unity of all beings.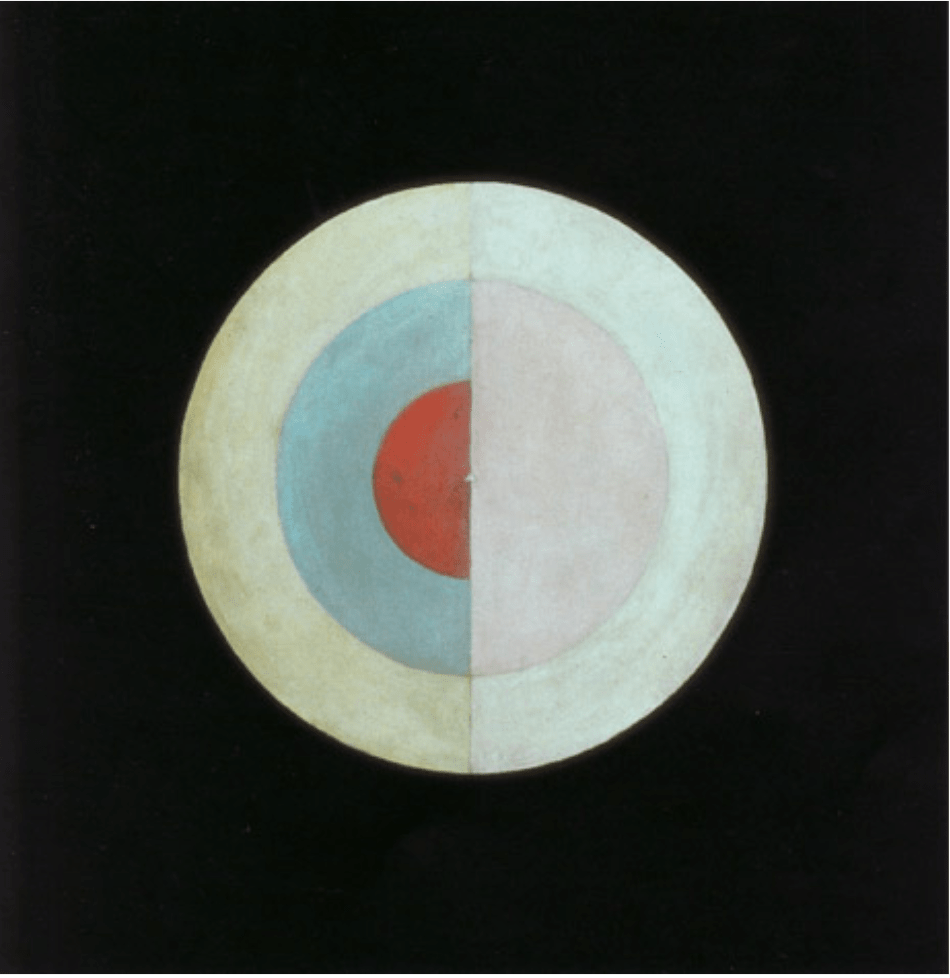 One of her central motives for example, the spiral, stands for growth, human couples, androgyny and harmony between all genders.
Hilma saw painting also as a revelation. For her it was about the overcoming of the separation between body and soul. Between the material and spiritual world.
For me Hilma's artwork is very calming and every time I look at it, it brings a deep feeling of peace to my soul. It feels like this point in a meditation, when you have reached that point of total stillness and and your mind, body and soul are deeply content with everything, they just are.
Despite them being so calming I think they still hold a lot of power in them. But not like that kind of power which will roll you over but that kind of power which is constant, like the sun for example.
Hilma's paintings bring me back to myself when I look at them, back to my heart, and remind me of who I am, they remind you of who you are deep down in your heart and soul and remind us to live that, and I think that is one of the greatest gifts there is.
---
Follow us on Instagram to become a part of the community. – https://www.instagram.com/theuncoiled/
It's the last day to submit to our magazine, "The Statement". – https://docs.google.com/forms/d/e/1FAIpQLSd87rsSPx5Bp5BvZ9QMjYNGr6BnKHPwlaOPmCrNg1Cz4mwqDg/viewform
Hilma af Klint foundation – https://www.hilmaafklint.se/en/