"Now let's cut to freedom"
born 30th of August 1874 in Vienna, Austria
died 26th of May 1952 in Vienna, Austria
Emilie Flöge was the youngest of four children. She had one brother; Herman, and two sisters; Pauline and Helene. The only form of education for girls at that time was either a six-year-long elementary school (for the working class) or an eight-year-long secondary modern school (for the middle class). For the rich higher classes there were also higher girls' schools, but whose primary focus still was to prepare them to be "a good housewife". Studying at universities was not an option for any girls or women.
Emilie and her sisters were lucky, due to the job of their father, which made them middle class, to go to a secondary modern school.
Emilie developed a great interest in art, literature, learning, reading, and books. Especially the latter three things were not things girls at that time were "supposed to be interested in" or were able to have access to that often.
But Emilie was also interested in fashion and design.
After she finished school she pushed through to be able to make an apprenticeship as a garment maker.
Once she finished that, she started working at the dressmaker's workshop which her sisters operated.
In 1891, when Emilie's sister Helene married Ernst Klimt, she also met his brother, the artist Gustav Klimt. They had a short romantic relationship, which then developed into a strong friendship that lasted until they died. As if they had found their soulmates in each other.
For some time now Emilie had played with the thought of opening her own fashion salon.
When she and her sisters made the work clothes for a big baking show at that time, they won a great amount of money for it which gave them enough starting capital to finally open their own fashion salon.
In 1904 they founded the salon 'Salon Schwestern Flöge' (Engl. Salon sisters Flöge), located at the Mariahilfer Straße 1b, above the Cafe Casa Piccola, where a lot of artists frequently enjoyed their coffee.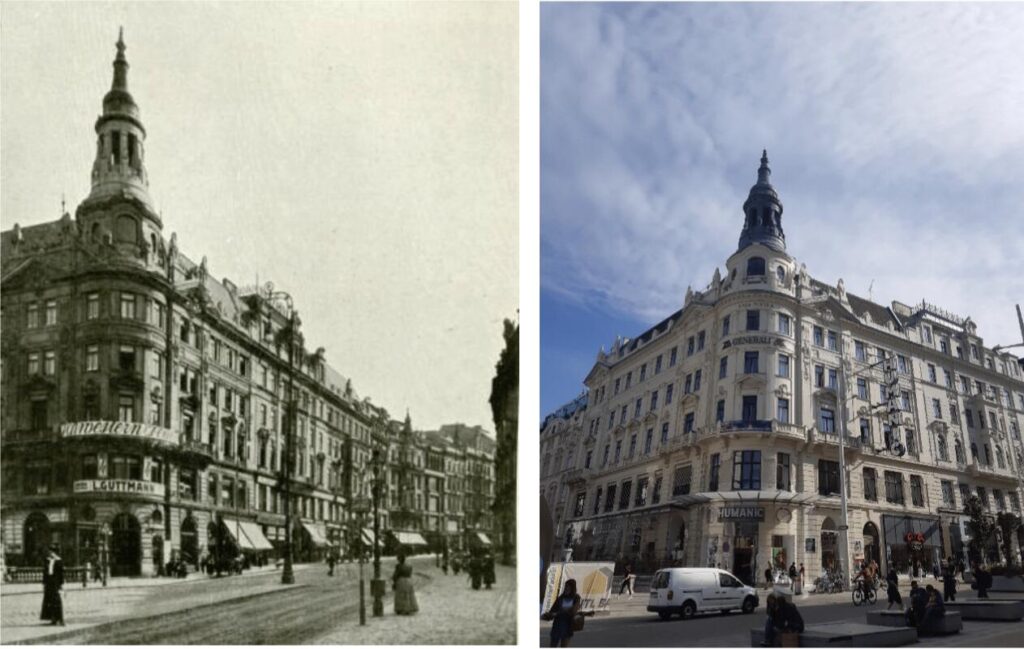 Salon and Cafe Casa Piccola back then                Salon and the Cafe now, 2021
Emilie was the executive director of the salon, their creative mind; making the designs. Helene was responsible for the customer service and Pauline for accounting. They all took turns in supervising the seamstresses, of which at their high times they employed eighty. A part of them had space to work in the salon, the other (bigger) part was working from home. At the salon, they were designing and selling reform dresses, or variations thereof. Reform dresses were dresses that allowed women to move more freely and enabled them to work more actively. The goal was to get rid of all obstructive and constrictive elements of a dress, like a corset for example.
The salon became one of the most popular in Vienna and leading Emilie to regularly making trips to Paris and London to visit the fashion and fashion shows there and shop for exclusive fabrics for her salon. She also started collecting rare traditional clothes from Austria but also other countries in Europe, like Slovakia, Slovenia, Hungary, etc., rare embroideries and clothes which were extraordinarily crafted. Some of them were then exhibited in the Salon.
With the year 1912, and her sister Pauline dying, followed some years with a lot of great losses for Emilie. In 1917 her brother Herman died and a year later one of her most significant people, Gustav Klimt. In that same year, 1918, a lot of other good friends of Emilie died too, Koloman Moser, Ferdinand Hodler, and Egon Schiele.
The Salon overcame the First World War without a lot of great losses, so they could continue their work.
In 1936 Emilies sister Helene died and her daughter called by everyone Lentschi (nickname for Helene), continued the Salon with Emilie. But the year brought along some difficulties. Since the takeover of the National Socialists in 1933, France and England stopped importing products to Germany and in the following years also to Austria, which was difficult for the Salon, since they bought a lot of their fabrics there, so they had to downsize the Salon. With the "Anschluss" (annexation) of Austria into Germany in 1938, they had to close their Salon completely. Mainly because, additionally to the fabric problems, most of their customers were Jewish, so they either emigrated, fled, were missing, or were deported and killed in the concentration camps.
Until 1945 Emilie and Lentschi spend a lot of months every year at a Villa they rented in Weißenach, which is at the Attersee (a big lake in the State of Salzburg in Austria), where they used to spend their summers together with Emilie's sisters, her mother and Gustav Klimt.
After the war ended Emilie fully moved into a house at the Attersee together with Lentschi.
Despite her Salon being closed, Emilie still continued to design dresses and from time to time sewing one, and she also started to doing embroideries. Since Emilie inherited one-third of Klimt's leavings after he died, which also included one-third of his money, she wasn't forced to work, since that money was enough to live.
On the 26th of May 1952, Emilie died of kidney failure in Vienna. She was buried in a grave of honor of the city of Vienna.
Her Fashion
The idea of reform dresses was not something completely new, especially in the course of the suffragette movement, but the way Emilie did it was. Her dresses were a lot more artful and freer and every dress of hers was not only a dress but a total work of art, which the wearer was a part of. Her idea was that the women wearing her dresses are always also wearing 'the idea of freedom'. That gave them freedom but was not taking the beauty.
The Salon's start with the reform dresses though was paved with compromises. The women of Vienna's society were not that open to the new idea yet so they wanted to make rather smaller changes or not too radical changes to their usual dresses yet. Austria, and especially Vienna, was very traditional, and warming up to new ideas and ways of thinking took some time.
In the beginning, they were also met with a lot of criticism from a lot of people, but they continued. And it paid off. The Salon became one of the most popular in whole Vienna and Emilie one of the most important designers and fashion makers.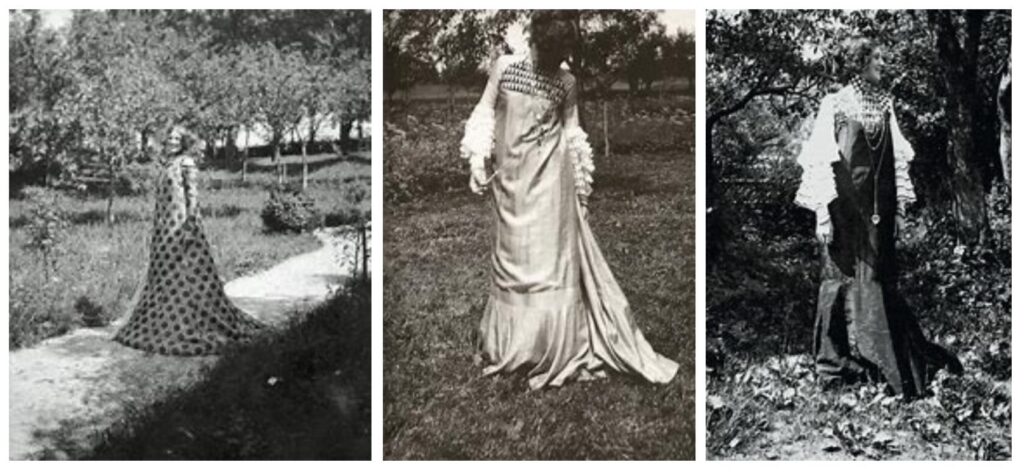 Emilie in her dresses, photographed by Gustav, 1906, which was then later published in the then magazine 'Deutsche Kunst und Dekoration' (Engl. German art and decoration)

It was often also rumored that a lot of her designs were made by Gustav Klimt, which is not true, he only designed one dress, everything else was made by her. It may be possible though that she was inspired by his artwork and in general the artwork of the Wiener Werkstätte and Secession.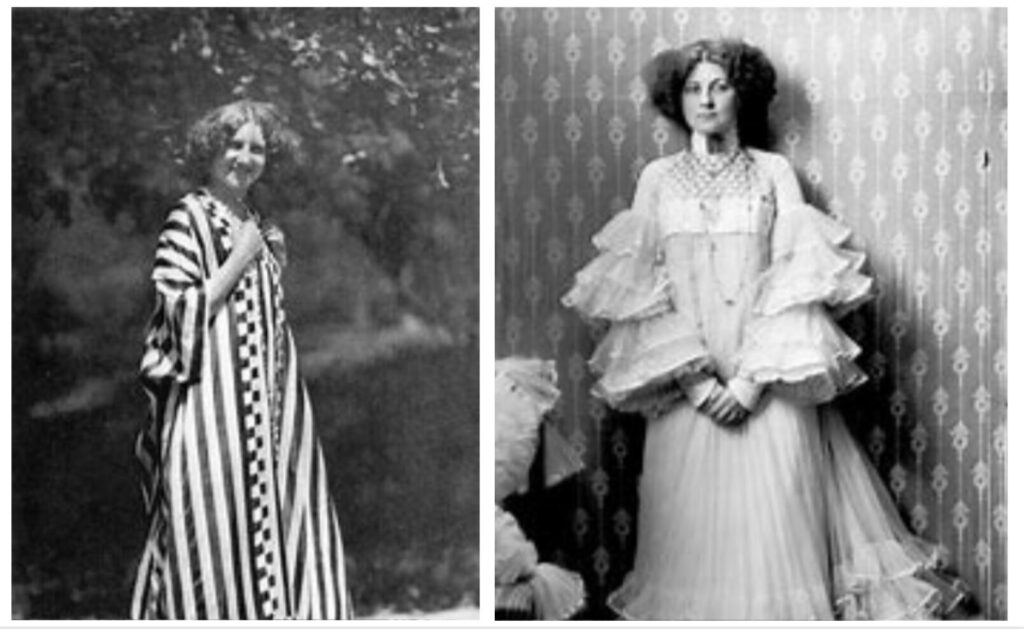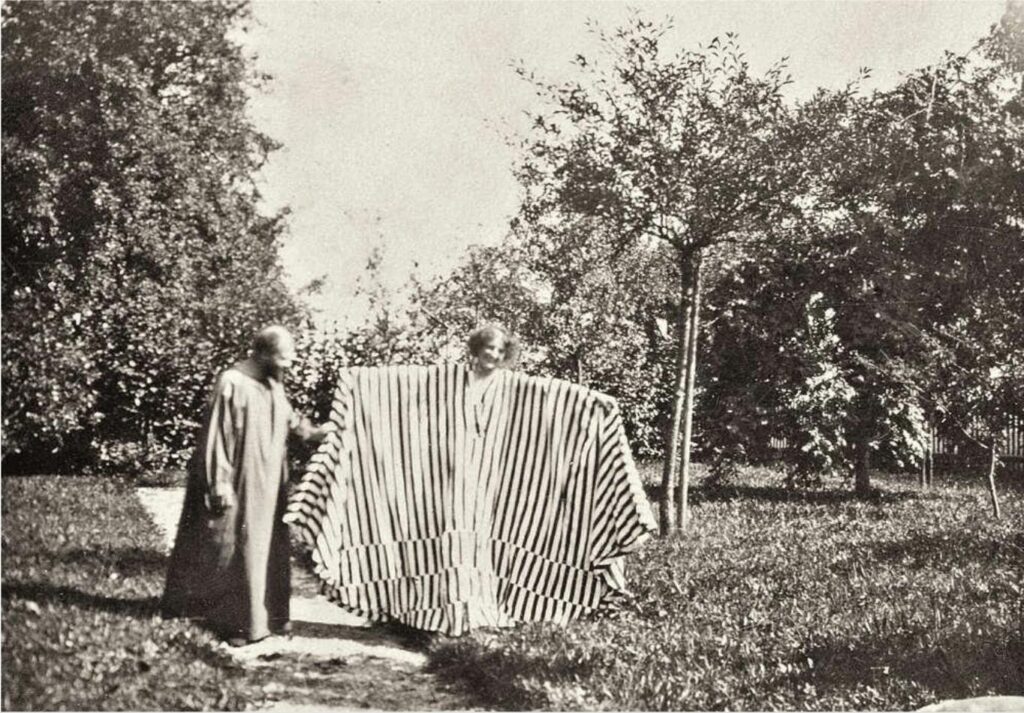 Emilie and Gustav at their summer holidays at the Attersee, 1908

The 'Wiener Werkstätte', which Emilie was a founding member of, was a collective of fine artists. Their goal was to renew the concept of art to also crafts. To artistically unite all areas of life, in the sense of a total work of art. The exceptional achievement of the Wiener Werkstätte was the overcoming of the art nouveau ornamentation, which was popular at that time, and towards dominating with geometrical and abstract shapes, which influenced the whole 20th century.
Connected to that was the Wiener Secession. It was founded by artists (Gustav Klimt was then voted as their art director) as a secession from the Wiener Künstlerhaus because they refused the at the Künstlerhaus dominating conservatism and the traditional concept of art, which was oriented at Historicism. The guiding theme, which is also on the forefront of the Secession exhibition building, is: "Der Zeit Ihre Kunst, der Kunst Ihre Freiheit" ("Time it's art, art it's freedom"). And on the left side of the entry door is the motto "Ver Sacrum" (Latin and means "holy spring") which expressed the hope of a new period of prosperity of art. They also had their own magazine with the same name.
Big achievements came with their exhibition policy. One of them is, for example, making impressionism known to the audience in Vienna.
The Secession is still today an important exhibition space in Vienna for contemporary art.
Secession in Vienna
Emilie's dresses express so much power but calm and beauty at the same time, which I have never in that way seen in fashion. It's as if the steady readiness of their creator, ready at all times to take on whatever might come her way, is sewn into their fabric. Not only that, but through the beauty of the dresses, the beauty of the world is embedded into them. And by that, I mean not only beauty in a physical sense but the whole experience. All the emotions and experiences which form our life and eventually make it the most beautiful thing one can experience.
She also took life's playfulness and transformed them into the shapes and colors in her dresses.
You can also feel the freedom that shines through every one of Emilie's dresses. The freedom of a woman who thought in and pursued new ways (both in life and thinking) and lived her life the way she wanted to, no matter what anybody else was thinking. And that's what every wearer could feel.
But also a woman who saw art as something which is not just an object but that life in itself is art. And yes, everyone wearing her dresses became a total piece of art.
More Like This one:-
Bárbara Moura, "The Only Role Artists Have Is To Be Free."